An all-white kitchen has been a kitchen sought after in recent years; the crisp, clean appearance and light airiness of a white kitchen certainly has its appeal! But there are many color options for a contemporary kitchen that still look fresh, with more than a pinch of personality thrown in.
This article shows 20 beautiful color schemes that you may or may not have thought of when dreaming of a modern kitchen. Enjoy!
Greys.
A monochromatic color scheme is very modern for any space, and the kitchen is no exception. If monochromatic is what you're after, be sure to vary the tones and tints of the color itself, as well as the sheen and texture. Notice the variation between all the grey aspects of this kitchen among the floor, cabinetry (uppers and lowers), countertops, and lighting fixture. When combined, the effect is interesting with great visual depth.(image found on lightinghouse)
White & Gold.
Of course, if you love the look of a white kitchen but wanted to stray juuuust a little from the trending all-white kitchen, there are ways to do that with subtle color. Maintain the white feel with unadorned windows, marble countertop and backsplash, and a white farmhouse sink. Throw a pale grey-green color onto the cabinets, then accent with metallic hardware, fixtures, and accessories. The result is a kitchen that feels almost ethereal…without being completely white.
Leather & White.
Similar to white and gold in color, a white and leather-guided kitchen may appear similar as far as colors go, but the overall effect is quite different. Leather is used as the cover to the fridge and on the chairs here; light- to medium-shades of wood are used elsewhere to carry the very natural and neutral color palette through the space. While this kitchen is still completely contemporary, with its sleek lines and straightforward design, it has a sort of rustic charm and appeal thanks to the leather.
And, for the record, leather = luxe. Look at the stitching around these leather drawer faces! Gorgeous.
Red, White, & Blue.
Variations of cool blue tints help to keep this bold color palette feeling more modern and mature than like a kids' playroom. A heavy dose of white throughout the corner of this kitchen also tempers the boldness into a pleasantly happy space.found on kanerid.
Honed Slate, Honey, & Cherry Red (and Wood).
This rich, color-infused combination is warm, cozy, and welcoming. It works best with a natural light source, because the colors themselves lean toward the darker end of the spectrum. This updated kitchen is from the slightly post-mid-century modern era (70s), but it couldn't be more relevant to today's popular aesthetic.
Modern Red-Orange & Goldenrod.
Kitchens inherently have lots "going on," so a color scheme can be somewhat subtle yet still be quite effective in the kitchen. The transparent goldenrod suspension lamp (pendant) above the modern red-orange dining chairs around a white Saarinen tulip table are the first-impression highlight and provide a fresh, invigorating color palette. Various shades of grey, ranging from almost-black to light grey in the monorail track lighting system, tall narrow windows, bar stools, and appliances all read as neutral. Wood floors, upper cabinetry, and a wood-faced credenza provide much-needed balance to the space overall.found on lda-architects.
Poppy Orange&Ebony.
A striking and classic color combination that, in one way or another, has recurred throughout time in one way or another. The thing that makes this combination great in a modern kitchen is the opportunity for contrasts of sheen – high-gloss cabinetry combines with matte ebony walls and shelving for a deep visual feast. Sandwiching the intensity of the color scheme between white floors and ceiling is a great design choice.
Fuchsia & Light Neutrals.
If your kitchen is designed in such a way that an entire wall can be a color, then you're perfectly set up to choose a vivacious and vibrant hue to kickstart your modern palette without reservation. Because the walls of a kitchen are inherently broken up by cabinetry, appliances, backsplashes, etc., even the boldest of colors will have a somewhat muted look. Which means you can get away with choosing your favorite flavor of pink (fuchsia!) and not worry about its being overwhelming.
Coral & Steel.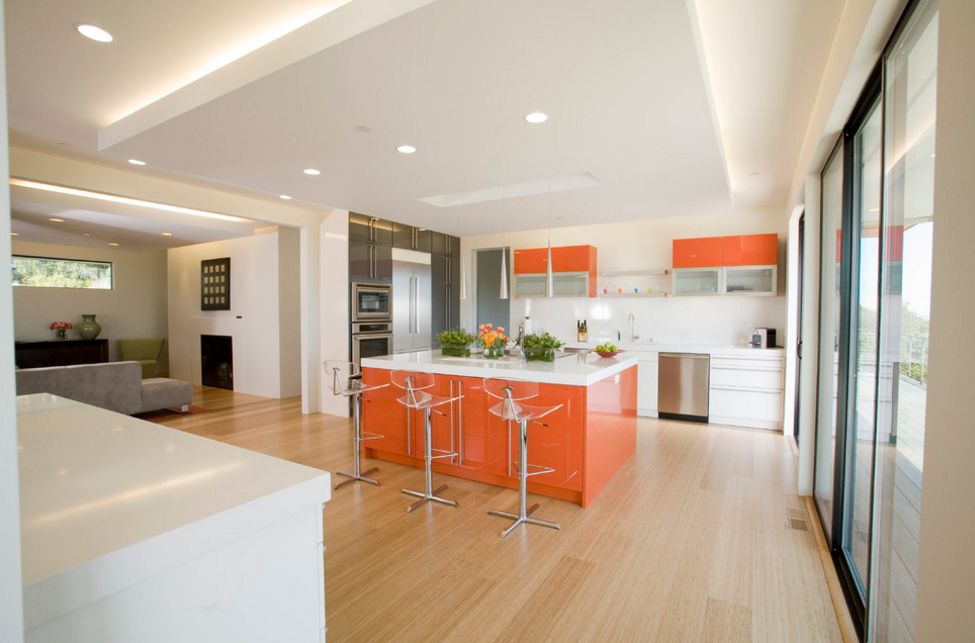 This is simply amore subtle variation of the classic red-black-white color scheme discussed previously, but the effect is still modern and fresh. Maintaining the white color on the cabinets and walls (the perimeter of the kitchen) and popping in some steel elements in appliances helps to keep the star of the kitchen the coral center island. But a thick white countertop throughout adds cohesion, even to cabinetry that is different. This is a key element – one of simplicity and consistency amidst design variations – of modern style.found on demattei.
Aqua & Red.
It's invigorating, to be sure, but aqua and red is not a color combination many people associate with modern kitchens. But isn't the effect so energetic and friendly? The key to keeping this palette reined in (and not feeling like a juvenile space) is simple, clean color transitions and few but substantial accents. The red bar stools, for example, immediately draw the eye and set the contemporary, sleek tone. Fresh flowers and large vibrant art finish off the décor flawlessly.
Aqua & Chartreuse.
Bold, fresh colors that invigorate and invite are an excellent choice for the kitchen! Blue and green are analogous colors and are also found together often in nature, so they will look well in a modern kitchen. Plenty of neutral materials ("invisible colors" here), such as wood and steel and concrete, actually make up the bulk of the coloring…an important ratio to keeping the kitchen feeling energetic and appealing without being overpowering or distasteful.
Teal, White, & Wood.
"Wood" isn't necessarily a color; we've already seen examples where wood is in the modern kitchen but isn't necessarily part of the color scheme itself. But in this instance, the wood tone and color are vital in enhancing and rounding out the glossy, almost clinical look of white and teal. The colors are reminiscent of ice and water and, thus, meld beautifully with warmer natural tones. A simple, sleek, earth-centered color palette for any modern kitchen.found on alterstudio.
Blue & Tan.
Speaking of earth-centered, it doesn't get more natural-feeling than blues and tans like in this modern kitchen. Again, this color combination has been around since, well, since water and beaches hung out together, but balance of more elements is key to this modern kitchen's appeal. Alchemy and concrete countertops bring in some much-needed fire elements (lava; rock). Glass subway tiles are unique in their mosaic presentation, and the lines are simple and straightforward. This is a great unique modern kitchen color scheme.found on brennanarch.
Aquamarine & Tan (Wood).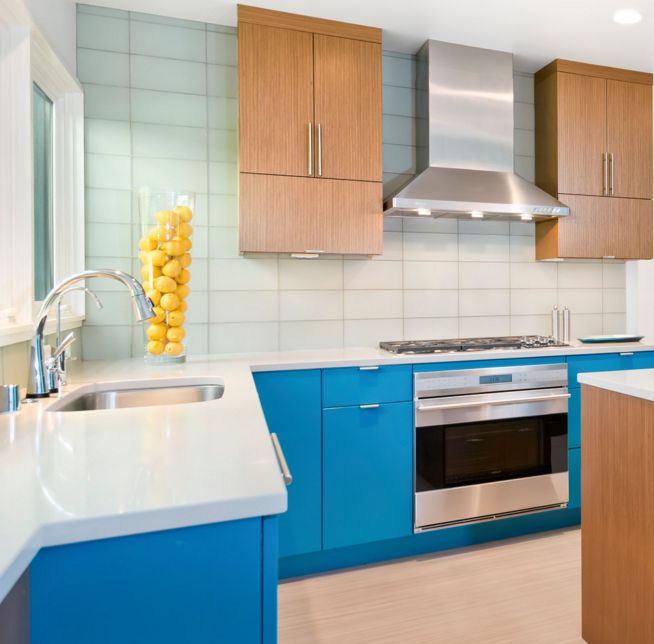 Few color combinations are as historic as the aqua-and-sand color combo (hello, any beach, anywhere). But still the palette is relevant in a modern kitchen. Various tints of the aqua appear on the backsplash and countertops to add depth and warmth to the kitchen. Wood provides instantaneous balance amidst bold coloring. The look is striking without being a show-off. Beautiful.found on designgroupthree.
Lime, Grey, & White.
The use of a bold color in a modern kitchen's color scheme doesn't mean the entire kitchen has to revolve around that particular hue. A strategic pop of a vibrant color somewhere in the space is enough to make it part of the color palette, while other neutral colors maintain a sense of modernity and sophistication. The lime green backsplash and cabinet interiors in this kitchen accomplish this.
Chartreuse & White.
Chartreuse is one of those retro-modern colors that looks both historic and hip at the same time. Glossy kitchen cabinetry on one wall in chartreuse adjoining matte, blonde wood-like kitchen cabinetry on the other wall provides great balance and crisp lines. In fact, the chartreuse color here plays a vital role in sharpening the paler units.
Yellow, White,& Charcoal.
We've seen grey and yellow color combinations in all sorts of spaces in recent years – living rooms, home offices, bedrooms, even nurseries. But the kitchen paint shouldn't be excluded from the list where this color scheme looks updated. There's a good blend of depth with the charcoal tones, punched up and infused with positive chi by the yellow. White touches here and there round everything out. This is a fun, crisp color scheme for any modern kitchen.
Vermillion, Magenta, & Pale Blue.
White is a key player in this colorful kitchen, of course, but the colors themselves are the attraction. A unique vermillion farmhouse sink brings personality and spunk to the kitchen instantaneously. The repeated magenta skirts create a retro, friendly vibe that's completely charming. And the pale blue backsplash helps to temper the stark contrast between the bright jewel tones and the white cabinetry.found on thecrossdesign.
Colorblocked Lime, Plum, & Aqua.
A discussion of modern color schemes wouldn't be complete without an example of color blocking. In this glorious contemporary kitchen, vibrant hues are installed in chunks, separated by the neutral-est of neutrals (beech wood, perhaps?). The richness and depth of plum, located near the floor, help to ground the color scheme; aqua glass tiles create the illusion of water, and an interior cabinet painted out in lime provides the perfect pop of shock. This is energetic, youthful, and completely contemporary.found on slogreengoods.
Earthy tones.
Various shades of brown combined with grays and hints of green or other colors usually found in nature can be used to give the kitchen a very organic and inviting look. In such cases it's nice to also pay special attention to the materials, finishes and the textures used throughout the space.
Natural wood and neutrals.
Wood is a beautiful material with a lot of unique characteristics. In the kitchen, it can help to create a warm and welcoming atmosphere and it can be used for the flooring, the furniture as well as a variety of other design elements. Combine it with neutral colors to draw more attention to its natural beauty.
Contrasting neutrals
Just because a color is neutral and doesn't stand out in a vibrant and bold manner doesn't mean it can't be interesting. An interesting idea is to combine two or more neutrals and to highlight the differences between them. This way they each stand out by contrasting with the others.
Matte black.
Black has always been an elegant and beautiful color but there's something about the combination of black and matte finishes that makes this color stand out so much more. Thi is also a look that suits modern and contemporary kitchens really well.
Simple colors and rich finishes.
The colors themselves can be quite simple and you can still give your kitchen a very interesting look. The trick is to add texture and to play with different finishes in order to create a balanced design. Check out how rich this décor is even though is has a subdued color scheme.
Subtle color variations.
Another interesting idea is to use different nuances of the same base color and to also rely on different types of finishes to create a diverse and interesting design. This kitchen can definitely give you some inspiring ideas in that sense.
Light gray and bright yellow.
Gray and yellow are two colors that go really well together. Gray is a neutral and a rather boring color which can be easily overlooked. Yellow is quite the opposite. It's rich and vibrant and full of energy. Together they're a perfect match.
Patterns and outlines.
When the colors are simple and subdued or not really interesting in any particular way, it can be fun to play around with various patterns in order to add life to a décor. This kitchen is definitely not lacking character.
Metal accents.
The kitchen is a space often filled with various types of appliances, accessories and various fixtures which could quite easily become an important element in the overall color scheme of the room. Consider using stainless steel or other metal accents in the design.
Light and dark nuances.
When using both light and dark colors in a space it's quite common to have them placed next to one another in order to highlight the contrast between them. However, if you want a more subtle transition, consider adding some in-between nuances and concentrate the extremes in different areas.
Similar but different.
There are plenty of colors that share in common certain elements and that are quite similar but they're also quite different at the same time. For example, brown and beige and variations based on these colors could look quite interesting when put together.
Balanced palettes.
When working with multiple colors, proportions are very important. A lot of times a kitchen would have a base color and an accent tone. However, that's not the only option. Here for example you can see lots of light natural wood mixed in with plenty of black, light gray and a bit of white as well. Everything is balanced.
Organic connections.
The colors used in this kitchen may not be the nuances you might consider putting together but they look rather nice in this context. The key when using colors that don't necessarily go together naturally is to try and create organic connections and transitions between them.
Contrasting backdrops.
The bright yellow wall would be quite overpowering if not for the big gray wall unit in front of it. Since only a little bit of the wall is showing through, that actually looks very pleasant and adds nice energy to the kitchen.
From top to bottom.
Another strategy is to dedicate specific areas to different colors in a room. The high ceiling in this kitchen provided a perfect opportunity to basically cut the room in two horizontally and to use gray for the upper section and white for the lower one.
The post 37 Awesome Color Schemes for a Modern Kitchen appeared first on Home Decorating Trends – Homedit.